Vegetables and nuts drive value in past 12 months while entire industry adds A$6.15bn over the last decade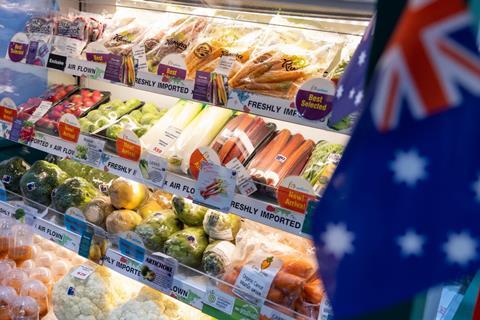 New data released by Hort Innovation has revealed the value of Australian horticulture grew in 2021/22 (12 months to 30 June 2022), maintaining a trend that has seen value grow A$6.15bn (US$4.14bn) in the last decade.
The grower-owned, not-for-profit research and development corporation for Australian horticulture, published the data in its annual Australian Horticulture Statistics Handbook.
The Handbook revealed in 2021/22, the production value of Australia's horticulture industry grew A$381.3m (2.5 per cent) to A$15.62bn year-on-year.
Hort Innovation chief executive Officer Brett Fifield said an analysis of the Horticulture Statistics Handbook since 2012/13 showed growth in both horticulture production volumes and values.
"Australia is producing 850,000 additional tonnes of produce than we were in 2012/13, and the annual value of horticulture production is up A$6.15bn compared to the same period. This means the industry has added, on average, around A$680m in value every year for the past decade," Fifield said.
Vegetables and nuts drove the growth in production value in 2021/22 with vegetables increasing 13 per cent year-on-year to A$4.54bn – an all-time high – and nuts growing 16 per cent year-on-year to A$1.38bn. The fruit sector had a down year with production value declining 4 per cent year-on-year to A$5.52bn.
The value of Australian horticulture exports grew 4 per cent year-on-year to A$2.47bn in 2021/22
Ausveg chief executive Michael Coote said that while the long-term growth in the vegetable industry has been impressive, the industry has recently been struggling with weather events, higher production costs and labour shortages.
"Weather events, labour shortages and supply chain issues have impacted production volumes of many vegetables, which has been challenging for growers," said Coote.
"High production costs and challenges in sourcing labour have also significantly impacted growers' bottom lines, so while the overall production value of many lines is higher than previous years, the profitability of many growers is lower as these increases have not been enough to meet increases in costs.
"It is also important to put this data into perspective, with much of the publicised shortages and supply issues with many vegetable lines occurring late in the data period or in the subsequent financial year," he continued.
"That being said, when looking at the longer-term growth of the sector, both production volumes and production values have grown strongly, which is a great sign for the ongoing viability of the vegetable industry and for Australian horticulture more generally."
Australian Table Grape Association chief executive Jeff Scott said the increase in the table grape production value – the second most valuable fruit category behind citrus – was a significant result given the challenges of the past couple of years.
"As an industry, we export around 70 per cent of our product. The past couple of years have presented huge challenges in getting our product to international markets, including transport and logistics issues, as well as lower consumer confidence in some international markets," Scott said.
"The industry has really defied the odds and I'm pleased we're seeing an upswing in the industry's value."