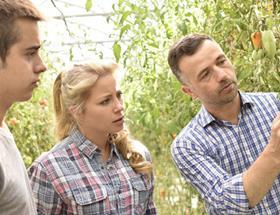 Ausveg has launched a series of videos highlighting the diverse range of careers in the Australian horticulture industry to coincide with National Agriculture Day.
The series includes video interviews with employees from different fruit and vegetable industries to help viewers understand some of the behind-the-scenes but vital roles available. These videos show the daily tasks, responsibilities, and pathways of current employees on Australian farms.
Ausveg national public affairs manager Tyson Cattle said that the series is designed to highlight the technical and skilled opportunities that are available on fruit and vegetable farms across Australia.
"The horticulture sector is a large, developed and diverse industry that employs a wide range of skilled people. While much of the media attention is focused on harvest labour within the sector, it is often forgotten that the industry requires a range of skillsets to manage and operate their farm business," said Cattle.
"The horticulture industry has many opportunities for workers to upskill and access on the job training further their career in horticulture. Whilst there are many harvesting opportunities on the Harvest Trail, there is also a range of other essential roles to be found on farm and production line."
Many of the roles highlighted in the video series are in the highest demand in businesses across the horticulture sector and align with the approved 31 occupations under the Horticulture Industry Labour Agreement supporting growers to sponsor skilled and semi-skilled workers from overseas to fill these critical occupations.
"Growers' preference is always to employ locals first where possible, when they have the right skills and attitude," said Cattle.
"Many people we interviewed for these videos did not intend on a career in horticulture, but discovered a passion for it after working on the farm. They have each come from various backgrounds and landed in horticulture through different avenues by transferring key skills from seemingly unrelated courses and past careers to start successful careers in horticulture.
"A job in horticulture can be the start of a lifelong, satisfying career with plenty of opportunities for upward growth. Putting food on the table for millions of families in Australia and abroad makes it a worthwhile and fulfilling career."