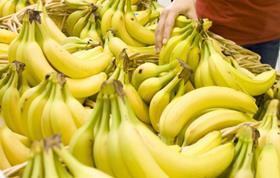 Bananas have retained their position as Australia's most popular fruit, according to data from Nielsen's Homescan Consumer Panel.
Some 94 per cent of Australian households purchased bananas in the ear to 24 February 2017, putting it about apples (89 per cent), citrus (89 per cent), berries (87 per cent) and stonefruit (79 per cent).
Australian households bought 19.1kg of bananas, with lower prices seeing bananas bought more frequently – up 1.4 occasions to 24 times during the 12 months.
The drop in banana prices did see the fruit drop to second place in value, though, with berries moving to top place.
The opportunity to drive sales lies in marketing to younger demographics, including those under 35 with no children, and young families, according to Nielsen. A potential A$6.6m in additional sales could be achieved in a year by these younger buyers purchasing an additional 1kg of bananas, whether through buyer more bananas at each occasion, or purchasing bananas more often.