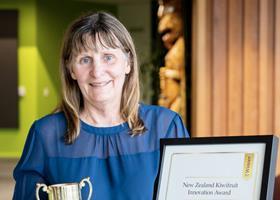 Plant & Food Research's Cathy McKenna has won New Zealand's 2021 Kiwifruit Innovation Award.
McKenna was recognised for her work developing an effective armoured scale insect management programme for Gold3 (SunGold) kiwifruit.
Over two seasons of trials, McKenna spearheaded a research team that developed a year-round programme capable of ensuring the high level of scale control required to satisfy market access requirements.
"Cathy's work has resulted in an increased amount of kiwifruit meeting exacting phytosanitary requirements and being available for high value Asian markets," said Zespri chairman and award judge, Bruce Cameron.
"Ensuring supply is not constrained by pests is key to maintaining grower profitability and the impact of Cathy's work will be felt for years to come."
The research led by McKenna included determining a safe window for applying an organic oil treatment during summer that, having been validated over several years of trials and combined with existing techniques, has proven to reduce scale populations without compromising the crop.
"Innovative solutions are essential for industry growth and for New Zealand's economic prosperity," said Kristy McDonald, chair of kiwifruit industry regulator Kiwifruit New Zealand and a fellow award judge.
"Cathy and her team are doing important work to ensure New Zealand's reputation for high quality produce continues into the future."
McKenna said she was humbled and honoured to be recognised with the award.
"The work we do for the industry, gives me, and my team, a real sense of purpose, and I'm grateful to be able to work with such a collaborative group of people every day," she explained.
"Innovation is not about one person's work, it's truly a team effort, and I accept this award on behalf of the researchers, growers, Zespri and everyone across the industry who I've been privileged to work with on this project."