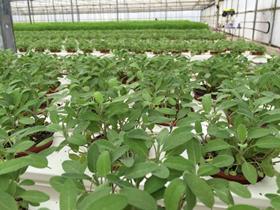 Sixth generation vegetable grower Butler Market Gardens ahs received A$500,000 interest-free loan from retail giant Coles as part of its Nurture Fund.
New automatic washing and drying technology to minimise waste and speed up paddock to plate time, as well as chemical-free post-harvest sanitisation unit will be purchased with the loan.
"The funding will allow us to introduce post-harvest technology in Australia which will improve efficiency and increase throughput and ultimately provide a better product for consumers," Rick Butler, managing director of Butler Market Gardens said.
The salad and herb producer told Fruitnet in August that the company was looking to develop its protected cropping produced as well.
"We currently grow less than 5 per cent of our produce in protected cropping. We will grow from 0.8ha to 3.7ha progressively over the next 12 months with 2.5ha ready for winter 2016 production," Butler explained. "We expect to increase our Herb production within protected cropping to more than 50 per cent. This will substitute the need to purchase raw product grown in northern Australia, delivering locally grown and fresher herbs to Victoria, South Australia and New South Wales all year round."
Coles managing director John Durkan said that Butler Market Garden's moves to supply domestic consumers with high quality locally grown vegetable year-round was part of what impressed retailer.
Berry and garlic growers given boost
Queensland-based strawberry grower Berry Yummy also received A$500,000 from the Coles Nurture Fund to invest in a facility for heated sealing of strawberry punnets, while three families across the country were also among some of the first recipients of grants.
Tasmania's Clark family from frozen raspberry producer the Westerway Raspberry Farm, Western Australia's Wiese family from quinoa grower Yarranabee and Queensland's Moon family from garlic grower Moonrocks were also awarded funds.
Moonrocks director Andrew Moon told the ABC that the company diversified into garlic growing several years ago, with the aim to supply Coles stores nationally by 2016.
'There's a gap in garlic where they have to import product from all over the world, and the aim is to reduce that to zero,' Moon said. '[Consumers] want a safer product that actually also helps businesses and farmers across the board in Australia, and by us supplying garlic it has a big flow-on effect."
The Nurture Fund was launched in April to provide A$50m to small businesses in the food and grocery sector with grants and interest-free loans over the next five years, with the next round of funding to open on 25 September.