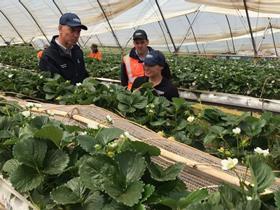 As Costa Group has launched a new campaign to attract local labour inpreparation for its upcoming Tasmanian berry season.
Costa Berries Tasmania general manager Cameron Folder said the aim of the campaign was to build upon the success of last summer's season.
"Last season we employed almost 500 locals in a variety of roles from picking, crop maintenance, pack shed work and truck driving," Folder said.
"An important part of last season's recruitment was the support the horticulture industry received from the Tasmanian and Australian governments."
The government initiatives continuing for the upcoming season include the Tasmanian government's'Tassie Harvest Jobs – Take Your Pick'local worker campaign and the Australian government's AgMove programme that supports potential workers to relocate to regional areas for the harvest season.
Costa's multi-layered local recruitment campaign includes a range of digital, print and radio advertising, recruitment days across North and North West Tasmania, school and university information days.
Costa is also working closely with local employment agencies and providing support to people who need assistance with the application process.
Folder said it was pleasing that many of the locals who started work with Costa last season, have continued over the winter months in maintenance roles, preparing the crop for this season's harvest. The company will also be increasing the number of Pacific Island Seasonal Workers it employs directly, rather than through labour providers, to complement the local workforce.
"Next week Costa will be transferring 136 seasonal workers from our citrus operations in South Australia to work on local farms. The workers will be accommodated in Devonport and just as the local community embraced the seasonal workers last season, I am sure the people of Devonport will give them a warm welcome," Folder said.