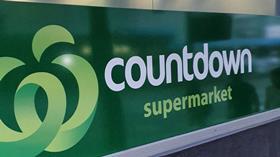 New Zealand retailer Countdown has opened its first purpose-built and permanent, 24-hour eStore to meet a significant increase in online shopping.
The 8,800m2 store in Penrose, Auckland contains all the features of a regular store, fresh fruit and vegetables, packed grocery items and even a butchery and bakery, the only thing that's missing is customers.
Instead, a team of 200 personal shoppers (including 105 newly hired employees), will run the dedicated eStore and complete online orders for customers from ten of Countdown's busiest Auckland supermarkets.
Sally Copland, general manager digital of Countdown, said the eStore formed part of the company's response to the coronavirus (Covid-19) demand.
Countdown has already temporarily closed six stores to help increase online shopping capacity and ensure delivery services can be prioritised to those most in need at this time.
"Demand for Countdown's online shopping service was in significant growth even before the Covid-19 outbreak but the situation we are now in has made it even more critical to Penrose opening on time," said Copland.
"With New Zealanders staying home for the lockdown, visits to our website have increased 300 per cent. We are seeing ten times the amount of customer registrations than we normally would each week, and additionally we have now delivered groceries to tens of thousands of New Zealanders who registered for our priority assistance service," added Copland.
"This means our new store dedicated to serving online shoppers is more important than ever."
By operating 24 hours a day and seven days a week, the eStore will have the capability to fulfil more than 7,500 online orders each week, as a result of a layout based on sales data that increases picking efficiency.
The first delivery trucks will leave the store at 6am daily with the final deliveries taking place at 7pm every evening. When orders are not being picked, the eStore will be replenishing more than 25,000 products.
Online pick up orders will continue to be fulfilled and collected from local stores, with increased windows available at each store due to moving delivery orders to the Penrose eStore.
"Handling all online delivery orders from ten of our regular supermarkets will free up space in-store making it a better experience for both our store customers and our team," said Copland.
"As well as increasing our delivery capacity, we're estimating being able to triple the number of pick up orders processed at the stores affected as a result of these changes. This iscrucial in these challenging times when we know so many people are relying on online shopping."