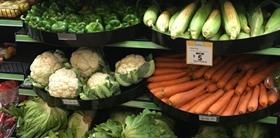 New Zealand retailer Countdown will remove plastic produce bags from three of its stores in a ten-week trial.
From 10 February its Orewa, Ponsonby and Manuka stores will test a new-look unwrapped fruit and vegetable section with more loose produce, less plastic and new, specially-designed, paper and cardboard packaging.
More than 60 products will be 'unwrapped' from their usual plastic wrap or pack, and plastic produce bags will also be removed with customers encouraged to use reusable bags. Paper bags will also replace plastic bags for bulk foods.
Kiri Hannifin, general manager corporate affairs, safety and sustainability of Countdown, said the company has invested in new shelving, packaging and production changes for the test, but it's an investment that has to be made if it is serious about reducing the use of plastic in the future.
"We are incredibly passionate about the environment and reducing the amount of plastic and packaging in our produce section is something we, along with our customers, are keen to see," Hannifin said.
"Unwrapped gives us a chance to give some new things a go with our growers and packhouses. We're really excited about how these stores will look and feel for our customers and team."
According to Hannifin, the trial will help Countdown gauge if the changes will deliver improvements that can be sustained over the long-term.
"We're mindful that packaging or process changes might cause bigger issues, so we need to understand this a lot better before we roll something out nationwide," Hannifin explained.
"For example, without packaging some products might deteriorate far faster, causing food waste - that's something we absolutely want to avoid.
"Ultimately our customers also have to love shopping with us - changes need to be easy, convenient and better for the environment at the same time."
This trial adds to the retailer's other efforts to remove plastic from its stores. Countdown phased out single-use plastic shopping bags in October 2018 and has implemented programmes to reduce unnecessary plastic and packaging such as introducing BYO containers.