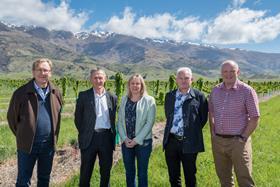 New Zealand cherry development, Deep Creek Fruits, has announced a second capital raise in a move it hopes will fund a packhouse and expansion at its Central Otago orchards.
Deep Creek Fruits chairman Michael Ambrose said the offer, in accordance with the Financial Markets Conduct Act 2013, invited wholesale investors to purchase partnership interests in the development which would export cherries to global markets for the first time in 2021/2022.
This investment and the inaugural harvest will target the growing global seasonal and Chinese New Year market.
"I see this as a part of our long-term strategy with a focus on ensuring a sustainable business proposition to enhance investor returns and value," said Ambrose.
Chief executive officer and director Sharon Kirk explained this was a chance for investors to take advantage of the highly profitable global export market.
"New Zealand cherries consistently achieved the highest price per kilo on the world market," noted Kirk.
Expansion plans included purchasing and developing additional land for cherry production at Lindis Peaks and establishing the packhouse and export infrastructure required.
Eighty-three hectares has now been planted at Mt Pisa and 36 hectares at Lindis Peaks, with additional land available for development at Lindis Peaks.
The traditional sheep and beef landowners of the orchard sites at Lindis Peaks and Mt Pisa are among the investors behind Deep Creek Fruits.
The entity was formed after they expressed a desire to diversify from sheep and beef farming into cherry production and approached horticultural specialists Ross and Sharon Kirk of Hortinvest.
'The landowners were looking outside agriculture to generate potentially lucrative and long-term rewards for generations of their families to come,' Kirk said.
Richard Perry joins the board of directors
Meanwhile, Richard Perry has officially joined the board of directors that represents shareholder interests in the entity.
It comprises leading New Zealand legal, financial and business executives with experience across a range of sectors including agribusiness and export.
Perry was appointed in September 2020 and has extensive governance and directorship experience developed across public, private and not-for-profit sectors, ranging from start-ups to mature companies.
Hortinvest manages all services associated with the developments from orchard to export function.