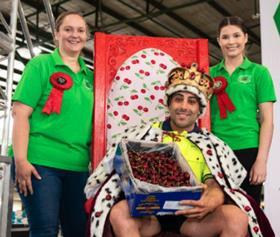 The coronavirus (Covid-19) pandemic has claimed yet another event, this time the annual cherry auction held by Sydney Markets.
For 38-years, the annual auction has heralded the start of New South Wales' stonefruit season, raising over A$1m for a number of Australian charities along the way.
With the auction postponed due to Covid-19 restrictions, Sydney Markets decided to change its approach, instead calling for the community to nominate local heroes who deserve recognition.
Sydney Markets chief executive, Brad Latham, said he's looking forward to celebrating 'the good' in what has been a very challenging year.
"Covid-19 continues to significantly impact so many people around the country, including many in our Markets community. Yet, amongst all the challenges we know there are countless stories of courage, resilience, camaraderie and mateship," said Latham.
"This year Sydney Markets is thrilled to recognise some of the most deserving members of the community with a token of our appreciation – a box of fresh plump Aussie cherries. We look forward to celebrating the 40th anniversary of the Cherry Auction in 2021."
The Sydney Markets team and the Cherry Auction Committee are calling on the community to nominate a local hero. According to Latham, these can be health care professionals, frontline workers or even people in the neighbourhood that have contributed to the local community during a challenging year. The nominees will go into the running to win 1 of 20 boxes of the season's finest cherries. Nominations can be made via the Sydney Markets website.