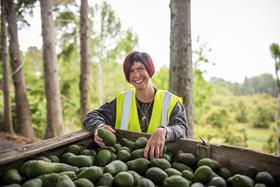 The New Zealand Avocado Growers' Association (NZAGA) has recently announced the appointment of Linda Flegg into the position of chair.
Flegg, director of Morris Moore Farms and post-harvest company Kauripak, is the first female to obtain this position in the 40-year history of the industry organisation.
Karen Pickford, industry director of NZ Avocado, welcomed Flegg to the position, and highlighted the skills she is set to bring to the role.
"Linda is absolutely the right choice, for the role of chair, her plentiful amount of experience in the industry, plus her knowledge as a packer means she is a great all-rounder," said Pickford.
Although Flegg said she believes in the best person for the role regardless of gender, she is happy that there are better support networks to enable women to realise their potential, especially in the growing horticulture industry.
"Women have to put their hand up for leadership roles and I think that more of us are doing that across the horticulture sector," said Flegg.
"Kiwis and the world need good quality fruit and vegetables and I think horticulture is the future of New Zealand."
Flegg said it is an exciting time to be part of the avocado industry but challenges such as sustainability are still front of mind.
"Environment and sustainability are going to be a huge challenge and we are progressing work in that space. Ensuring that those coming into the industry are doing their due diligence so they are aware of the challenges as well as the opportunities is important," said Flegg.
"Consumer expectation around the environmental sustainability of avocados may also add additional costs to how avocados are grown. On the flip side, the global demand for avocados is fantastic, and the growth in production in New Zealand will create more jobs and attract more people to the horticulture industry."
Flegg replaced Tony Ponder who stepped down as chair at the NZAGA annual general meeting in August. Ponder served as chair since 2017 having served 16 years on the board.
The role of chair was one of three appointments made by the NZAGA. Alistair Nicholson was appointed vice-chair and Paula Kearns was elected as the NZAGA at large representative and NZ Avocado industry director.
The upcoming Summer edition of Produce Plus Magazine will include the latest news from the Australian and New Zealand avocado industries.