BASF launches first tearless onion for the Australian market exclusively with Woolworths following three decades of development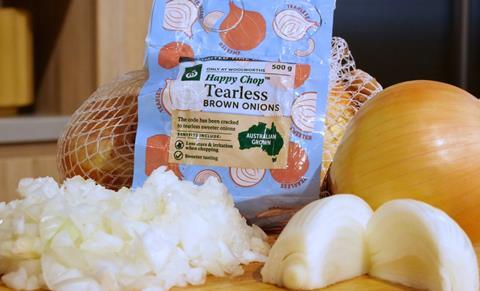 Australian consumers can look forward to chopping their onions without shedding any more tears thanks to the launch of a ground-breaking new onion that's less likely to make you cry when you cut it.
Happy Chop - Tearless Onions are available for the first time exclusively in Woolworths Supermarkets' stores across New South Wales, Victoria, and the ACT from 11 July 2023 until September.
BASF, which has worked with Woolworths and growers to bring the product from trials to market, said it is the first tearless onion for the Australian market.
"It took over three decades of investment, development, careful selection and hard work to develop this game changing onion," explains BASF's consumer and customer manager, Sam Clayfield. "Happy Chop - Tearless Onions allow consumers to prepare their onions without the pain and hassle of shedding tears."
Woolworths Supermarkets' general manager of fruit & veg, Paul Turner, said: "We're excited to bring this incredible variety to our customers to take the tears out of meal prep. I've heard all sorts of stories about how people avoid tears when cutting onions, whether that's wearing glasses, freezing onions or wearing a mask.
"These Happy Chop - Tearless Onions stand out as a unique innovation in Australian produce. Onions are a household staple, and this is a great option for many people who end up in tears when preparing onions. It's another way we continue to deliver on our promise to bring the best fresh fruit and veg to our customers."
While being less pungent, Happy Chop – Tearless Onions reportedly retain a great onion flavour and are slightly sweeter than regular brown onions.
"Consumers love to eat them raw as much as baked, stir-fried and cooked," Clayfield noted.
Global profile
Happy Chop Tearless Onions are grown from a seed variety from BASF's Nunhems portfolio and are marketed under the Sunions brand globally. Trials have been conducted in Australia since 2019. The product was launched in the US in 2017, Spain in 2020, and the UK, France, Italy and Germany in 2022.
"The product has been immensely popular with consumers wherever it's launched," said Clayfield. "We expect Australian consumers will love the Happy Chop - Tearless Onions just the same, whether it's for a barbecue with mates, in a fresh salad or as a staple in their favourite recipe."
How it works
Curious consumers may wonder how the product banishes tears. "Volatile compounds are responsible for the pungency and tearing in onions," Clayfield explained. "In Happy Chop Tearless Onions, the volatile levels decrease, creating a milder, sweeter, and tearless onion over time. In other onions, the opposite happens, and they become more pungent over time. Happy Chop - Tearless Onions are therefore maintained in storage for a certain length of time to ensure their favourable characteristics.
Happy Chop - Tearless Onions are available for a limited time from 11 July until September in Woolworths Supermarkets' NSW, ACT and Victorian stores (while stocks last), before BASF and Woolworths look to expand production in the coming years to offer the product nationally.
In addition to being marketed domestically, Australian production is exported to Europe to capitalise on its counter-seasonal availability in established markets. "The first shipments from Australia arrived in Spain in May to help extend Sunions availability in EU markets," said Clayfield.