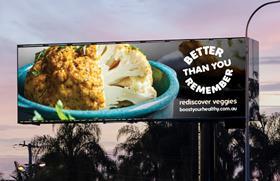 Increasing vegetable consumption is at the centre of the second annual health and wellbeing campaign launched by the Outdoor Media Association (OMA), Wellbeing Queensland and Nutrition Australia.
The pro-bono campaign, 'better than you remember' encourages Australian consumers to think differently about how they consume vegetables. It follows the 2021 campaign 'Add an extra handful of veggies' which OMA chief executive Charmaine Moldrich said had positive results.
"With this campaign, we aim to support Health and Wellbeing Queensland's mission to 'make healthy happen'. We know that out of home advertising is a powerful channel that influences positive behaviour. Our research has proven these outcomes, particularly when it comes to lifestyle changes," said Moldrich.
"The post-campaign study of the first health and wellbeing campaign we ran in January 2021, Add an extra handful of veggies, showed that 86 per cent of parents who saw the ad said they were encouraged to include vegetables in their meals or snacks. While 80 per cent said they were encouraged to make healthier choices for their children's meals. We ran 'Add an extra handful of veggies' last year in partnership with the Australian Government Department of Health."
The advertising will direct consumers to the campaign's website which shines a light on how delicious vegetables are, and offers tips, resources, and recipes.
Lucinda Hancock, chief executive of Nutrition Australia Vic Division said the campaign put vegetables in front of consumers.
"We love seeing veggies on billboards and believe more promotion like this is needed. Eating a rainbow of coloured vegetables can ensure people are consuming a variety of important nutrients," said Hancock.
"We are thrilled to be involved in this year's campaign and provide tips and recipes that can make healthy eating tasty and accessible. This campaign is topical as you can boost your immune system by upping your veggie intake. A great annual initiative by the OMA and their members."