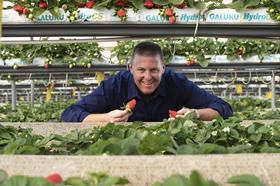 Leading strawberry producer, Piñata, has announced it expects fewer strawberries on Australian supermarket shelves this winter, due to challenging growing conditions, including two-years of drought in the Granite Belt region of Queensland, where the majority of the industry's runners are grown.
But the reduced volume won't affect taste, according to Piñata Farms' managing director, Gavin Scurr (pictured), who said berry eating consumers could expect big, sweet berries until Spring, despite various other factors also influencing the Winter crop now underway at Wamuran on Queensland's Sunshine Coast.
'There's no doubt it's a challenging season. Yield is down and we're facing a potential industry-wide worker shortage due to Covid-19 travel restrictions during the August peak. However, that's farming, and producers are well accustomed to delivering a crop despite adverse conditions,' explained Scurr.
'Runners also arrived late which delayed planting by about three weeks. However, ideal growing conditions on the Sunshine Coast since Easter and excellent crop management by our team, has turned that around. We don't have as many strawberries as usual but what we have, is excellent," he added.
Piñata Farms has been growing strawberries in Queensland since 2000. The family farming business also produces specialty strawberries for BerryWorld under a joint venture with UK-based BerryWorld Group. Piñata Farms is the exclusive Australian producer of BerryWorld varieties.
'The BerryWorld crop - grown under polytunnels to mitigate weather risks - will also be down in volume, once harvesting starts in July as the plants were also grown in the Stanthorpe region. The main variety we grow was selected for flavour and appearance, so we're confident this season's berries will tick those boxes,' noted Scurr.
Labour shortage looms
Piñata Farms currently have enough harvest workers to meet the requirements, however that could change by August when up to 100 extra workers might be required in the field and the packing shed as the crop reached its peak.
'Unless Covid-19 travel restrictions ease by then, allowing more seasonal workers to enter Australia, we're going to be short. We won't know until it happens,' said Scurr.
Should a labour shortage eventuate, Scurr would encourage Australians out of work due to the pandemic to consider applying for a position.
'We'd love to hire Aussies and particularly locals to support our community, but they rarely apply for work here. We're grateful that the Government extended temporary visas for backpackers but for many growers, there's just not enough to go around. We urge anyone looking for work to apply. Seasonal work could be a great stop-gap for those recently made redundant due to Covid-19.'
Piñata Farms is a member of the Australian Fresh Produce Alliance (AFPA) which lobbied successfully in April for temporary visas to be extended for 12 months. The AFPA is now exploring various options to ensure a reliable harvest workforce for Australian producers.
'The only impact from Covid-19 on strawberry operations has been on the availability of harvest workers. Like all producers, we've had to implement social distancing and increase the frequency of cleaning, but stringent sanitisation is not new to anyone in the food industry,' added Scurr.
Piñata plans for summer strawberries
Piñata Farms also produces summer strawberries at Stanthorpe but with the region entering its third year of drought, a summer crop was off the agenda.
'We intend to grow strawberries at Stanthorpe again when we have a reliable water supply,' noted Scurr.
Following a successful inaugural raspberry harvest at its Orielton, Tasmania farm, Scurr said Piñata Farms would also trial grow summer strawberries there.
'We have the irrigation and packing shed infrastructure built for the future at Orielton,' he said.