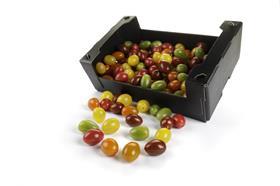 Nearly 200 exhibitors are eager for the opportunity to meet face-to-face again at Hort Connections 2021.Produce Pluspreviews what to expect from some of the leading grower-marketers in attendance.
Butler Market Gardens
Visitors to this year's Hort Connections have the chance to see Butler Market Gardens' herb brand Butler Gourmet Pantry, along with the company's range of spring onions and Asian vegetables. The premium, high-end herb range has expanded since its launch three years ago to a total of 19 different punnet (small portion) varieties, and 18 sleeved bunch varieties, according to the company.
The range has also been bolstered by the purchase of a new 34ha farm in Catani, Victoria, allowing Butler Market Gardens to increase its production of field-grown crops such as coriander, parsley and dill.
Costa
Costa will highlight its Sustainable Commercial Farming commitment at this year's Hort Connections. The company believes finding more sustainable ways to make fresh, healthy food available is one of the most critical issues for the industry.
The Sustainable Commercial Farming commitment is Costa's response to the challenge of balancing commercial fresh produce production with environmental responsibility and innovation, so that healthy and nutritious food is available to everyone for generations to come.
The grower-packer-marketer will also have information on its avocado, berry, banana, citrus, grape, mushroom and tomato programmes. The company has a national footprint of approximately 4,700ha of planted farmland, 30ha of glasshouse facilities and three mushroom growing facilities.
Perfection Fresh
Perfection Fresh's portfolio of exclusive fruit and vegetables continues to expand, with more new proprietary products on the way in 2021. At Hort Connections the company will have information on its extensive range, including its new banana segment with three new varieties – the Havana banana, Little Gem bananas and Red Tip Ecoganic bananas.
Perfection Fresh aims to inspire a healthier world by connecting people to sustainable fresh food and championing the importance of encouraging the adoption of healthy fresh produce consumption among children. Recently, Perfection Fresh's Qukes baby cucumbers, partnered with football (soccer) programme MiniRoos to get produce in the hands of families participating in sports.
Rijk Zwaan
At Hort Connections this year, Rijk Zwaan has a special focus on breeding for sustainability and is thrilled to introduce its five-snack tomato medley, adding to its line-up of snacking vegetables. Rijk Zwaan says the varieties have subtle but distinct differences in flavour, shape, bite and texture. With an average fruit weight of 10-15g, they are purpose-bred to perform in the same greenhouse environment.
Also in the snack category, Tendita RZ is a newcomer to the lettuce market and offers uniform and upright baby crunchy cos leaves. Tendita RZ has potential for the convenience sector, and not only for processing as a whole head or whole leaf. Rijk Zwaan says the small leaves with sweet flavour, crisp texture and strong shelf-life are the ideal size for snacking lettuce, tapas-style finger food and pre-packed salad bags.
Rijk Zwaan's micro seeded tiger striped watermelon, Tigrinho RZ, Blueleaf cucumber varieties and range of Salanova lettuces are also on show.