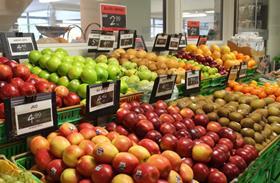 With parts of New Zealand returning to lockdown because of a Covid-19 outbreak, the country's horticulture industry has requested independent fruit and vegetable retailersbe classified as essential.
The plea came in a form of an open letter addressed to Jacinda Ardern, Prime Minister of New Zealand, signed by Mike Chapman, chief executive of Horticulture New Zealand, on behalf of the New Zealand horticulture industry and sent by a range of peak industry bodies.
Independent fruit and vegetable retailers were not classified as essential services when the country was under Covid-19 Alert Level 3 and 4 earlier in the year. Auckland has since returned to Alert Level 3 on 12 August for at least three days after the discovery of new Covid-19 cases.
In the letter Chapman said consumers, in Auckland particularly, relied on these retailers for their fresh produce and their closure hurt growers and consumers.
He said these outlets offered more affordable produce and culturally significant fresh fruit and vegetables to their communities that aren't readily available in supermarkets.
"In New Zealand there are multiple ways fresh fruit and vegetables are available for sale to the general public. The majority of these sales are made through large supermarket chains and independent fresh fruit and vegetable retailers, at a market share of approximately 80 and 20 per cent respectively," said Chapman.
"However, in Auckland independent retailers represent 60 per cent of sales of fresh fruit and vegetables."
Chapman also said since the earlier lockdown, the horticulture industry, together with independent retailers, had developed a protocol for the safe operation of retailers.
"The horticulture industry sincerely requests that the government re-considers their decision not to recognise independent retailers as essential services," said Chapman.
"We ask that a decision is made to consistently apply to all independent retailers to ensure New Zealanders have access to affordable fresh fruit and vegetables across the country.'