Griffith University will build a high-tech smart farm to maximise sustainable use of resources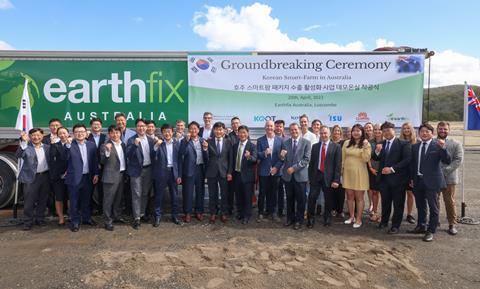 Australia's Griffith University has partnered with the Korean Technology Promotion Agency (KOAT) and Earthfix on a new high-tech smart farm located in Luscombe, Queensland.
According to a report from Griffith University, the aim of the project is to assess new ways of farming using advanced technology to produce high-quality produce year-round while also boosting productivity up to 75 times compared to traditional methods.
The smart farm is set to maximise the sustainable use of food, land, and water to provide consumers with locally sourced, fruit and vegetables, free of herbicides and insecticides.
Griffith associate professor Andrew Busch, from the School of Engineering and Built Environment, said the technologies involved with the project have been well established in Europe but there were few examples in Australia.
"Griffith University sees great potential in this partnership to deliver world-first opportunities for research collaboration around the technologies associated with smart farming and protected cropping," Busch said.
"The smart farm model has the potential to revolutionise the way that Australia produces food, allowing us to protect crops from natural disasters, but also increase productivity with intelligent systems that can control disease and increase productivity."
Busch said Griffith's ARC Research Hub for Driving Farming Productivity and Disease Prevention was perfectly placed to collaborate with local industry partners and international organisations from Korea to achieve "these important challenges of our time".
The architects of the smart farm, Earthfix, said the model could help achieve food security and potentially protect crops from natural disasters and control disease.
Earthfix founder Stephen Orchard said the state-of-the-art facility would also generate its own energy and nutrient needs whilst taking care of its own waste through a highly unique closed loop system.
Any food waste, rootstock, or nutrient water that is generated from the smart farm will be fed back into a green energy plant that produces biogas and can be reused as a renewable energy source to power the smart farm.
Orchard said the project showcased the Korean Government's commitment to promoting sustainable agriculture and its efforts to support the global food system.
"There will be a showcase centre that will be open to the public, offering farm to fork and a unique educational experience, unveiling the latest in sustainable agriculture technology," Orchard said.
"We want to motivate current and future generation farmers in all countries to implement their own smart farming techniques so as to achieve food security and healthy food consumption for all consumers."