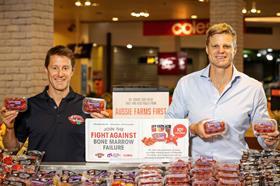 For the sixth year in a row, Australians are being encouraged to make a big difference to people with Bone Marrow Failure Syndromes by purchasing Flavorite tomatoes or capsicums in their weekly shop at Coles.
For the month of November, 10c from every specially marked pack will go to Maddie's Vision. Customers can also enter a competition to win a 'kick of the footy' with St Kilda AFL great, Nick Riewoldt.
The Maddie's Month partnership has already raised over half a million dollars for vital research into Bone Marrow Failure Syndromes since its inception, with the target set at A$100,000 for 2022.
The funds raised this year will support the inaugural Fiona Riewoldt Nursing and Allied Health Fellowship. Named in honour of Maddie's mother, Fiona, this research Fellowship recognises the vital role nurses and allied health staff play in supporting and caring for patients during often prolonged hospital stays, including periods in ICU and undergoing multiple treatments.
The Maddie's Month campaign honours both Maddie Riewoldt, who was 26 years old when she passed away with a Bone Marrow Failure Syndrome called Aplastic Anaemia, as well as Flavorite co-founder Mark Millis, who battled blood cancer and understands the urgent need for medical research to find more effective treatments.
Nick Riewoldt, Maddie's brother, and chair of Maddie Riewoldt's Vision said the support from Flavorite and Coles will raise much-needed funds to help patients in the future.
"Sadly, our two families know what it is like to lose someone you love, so together we are fighting towards finding a cure for Bone Marrow Failure Syndromes. We're hoping to raise A$100,000 this November. Please jump on board, buy some delicious tomatoes and capsicums and make a big difference."
Flavorite's Chris Millis added: "We would like to thank every Coles customer who has picked up a pack of our tomatoes and capsicums. These small actions are supporting Australian farmers like us and making a huge difference in patient's lives."