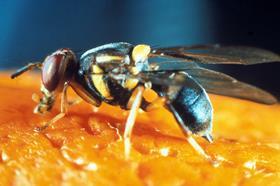 A single male Queensland fruit fly has been trapped in New Zealand's port city of Auckland. Between 20 February and 14 March six adult male fruit flies were detected around Auckland but following a period of no detections, control measures were lifted.
Therestrictionson the movement of fruit and vegetables were lifted earlier this month, although additional surveillance was kept in place as a precautionary measure.
Biosecurity New Zealand spokesperson, Catherine Duthie, said the latest fly was found in a precautionary trap just 460 meters from the previous cluster of six flies.
"While it is disappointing there has been another detection, and we need to increase our operational presence on the ground again, it does show our surveillance systems are working," said Duthie.
"Despite this latest find, there is still no evidence of a breeding population. This latest fly showed indications it was relatively elderly for a Queensland fruit fly, suggesting it may be from the same cohort as the earlier detections."
Additional trapping and collection of fallen fruit will resume alongside Biosecurity New Zealand signage and wheelie bins for residential fruit disposal in Northcote.
No further detections of a separate species of fruit fly known as facialis have been made and all control zones continue to be lifted for this incident.