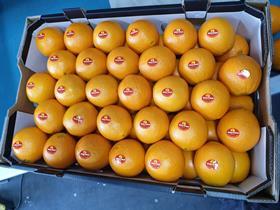 Australia's premium-quality fresh produce has gravitated to export markets in Asia and other parts of the world over recent years, driving impressive growth for the industry.
Now, one of the country's leading stonefruit grower-packer-marketers has launched a premium-quality fresh fruit brand dedicated to the domestic market, announcing the company's entry to the citrus category in the process.
Mattina Fresh launched its premium domestic brand earlier this month with citrus, after the company identified a gap in the market for the kind of premium quality fruit that is usually directed to export, explained national sales manager Thomas Panna.
"We're direct suppliers into major retailers in Australia and we already export 20 per cent of our production overseas, and this is where the new development and branding has come into play," Panna told Produce Plus.
"We believe that by using our social media platforms, which are aligned with independent retailers and our market wholesale agents, we can capitalise on a cultural shift we see towards high-quality, top-end products across the fresh fruit categories here in Australia. It's a small percentage of the market, but our focus is to own that space."
Owned by the Demaio family, Mattina Fresh farms more than 1,100 acres (445ha) of orchards in Yarroweyah near Cobram in Victoria. The vast majority (324ha) is planted to stonefruit, but the company also has 100 acres (40ha) of apples and pears, and last year transitioned into citrus planting with some 200 acres (80ha).
Mattina Fresh is packing citrus for four other citrus growers under the new brand to stringent quality specifications, according to Panna. "We are excited about the brand and believe the specifications, which cover appearance, size and sugar content, is exactly what Australian consumers have been looking for," he said.
Independent focus
The primary distribution channel for the brand is Australia's central markets, where Mattina Fresh markets the brand exclusively through two agents – All Seasons Produce in Sydney and Costa Farms in Melbourne, helping to establish and maintain its premium status.
Sales are primarily targeted at the independent retail sector, where the company also markets direct to a small group of retailers direct from farm, Panna explained.
"We believe the specifications in place through the major domestic chains are aligned, and that the grade of fruit is perfect for mass consumption," he said. "This new brand was created to capture the needs of the top-end market and create a point of difference to continue growth in the independent sector."
Social media has been a key brand-building and sales tool, according to Panna. "Creating a visual experience of the product before purchasing has been massive, and we've used a range of social media channels to do this, such as Snapchat, LinkedIn, Facebook and What's App. This is now where most of our sales are generated outside the chain store business.
"Our direct support for independent retailers in Victoria also keeps us close to our consumers and the feedback and stream of information allows us to continuously improve as growers and suppliers," he added.
Panna said the brand has been well received by trade and consumers, and he is confident it can command a consistent price premium. "We aim to be competitive with other brands and rely on our support in the central markets to achieve the best outcome possible," he noted. "We believe our brand is consistently valued around A$2-4 above others and we are happy to achieve that as a benchmark."
Having launched the premium brand with citrus, Mattina Fresh now plans to transition it through other fruits as they come into season to build year-round availability, with stonefruit a key focus.
In addition to its premium domestic brand, Mattina Fresh launched export brand Cobram Fields last year, which is particular to its growing region. "Cobram Fields allows other growers to pack under our regional brand to support our export programmes across all the lines we handle," said Panna.