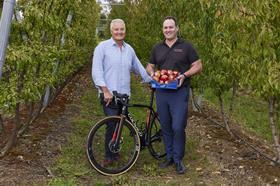 Montague has continued its support of food relief organisation, Foodbank, with the announcement its Jazz apples will be the event sponsor for Foodbank Victoria's Recovery Ride 2021.
The ride will take place on 17 April and will take participants through East Gippsland as part of an effort to assist the community in its long-term recovery from the 2020 bushfires
Scott Montague, managing director of Montague, said the company was thrilled to continue its support of Foodbank with this event.
"Our Jazz apples are all about fuelling an active, on-the-go lifestyle, and this year's event also coincides with the start of the Jazz apple season," said Montague.
"We look forward to providing all Recovery Ride participants with a Jazz apple to refuel with a healthy snack and can't wait to see everyone in Bruthen at the end to celebrate."
Dave McNamara, chief executive of Foodbank Victoria, said the charity has seen the effects the past 18 months had had on the Gippsland community.
"Our team saw firsthand the devastating impact the bushfires had on the community of Gippsland. Then followed the pandemic, which saw devasting losses to regional tourism," said McNamara.
"In addition to our ongoing support of local charities, we have created the Recovery Ride to encourage Victorians to explore the region, support local industry and celebrate community, all while having a bit of family fun.
'None of this would be possible without the support of Montague Jazz apples and we are thrilled to work with them as major sponsor for this event."