Nominations will now be accepted up until 6 May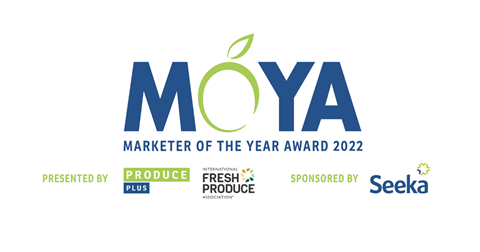 The International Fresh Produce Association and Produce Plus Magazine have confirmed an extension to the entry deadline for the 2022 Marketer of the Year Award (MOYA), sponsored by Seeka. The new deadline is 6 May.
Open to both individuals and teams from any part of the value chain, the award recognises outstanding achievement in marketing within the fresh fruit, vegetable and floral industries across Australia and New Zealand.
The winner of the eleventh annual Marketer of the Year Award will be announced at the Hort Connections conference and trade show in Brisbane on 6-8 June, with all finalists to feature in the bumper winter edition of Produce Plus Magazine.
Self-nominations and nominations by third parties are welcome.
Entry forms are available here.
For more information on MOYA, please contact:
Jodie Calwell
International Fresh Produce Association
Matthew Jones
Produce Plus Magazine