Premier marketing award for Australasian fresh produce and floral industries attracts strong field of entries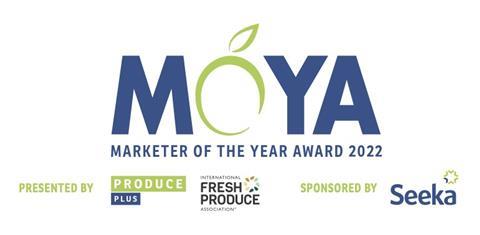 Produce Plus Magazine and the International Fresh Produce Association (IFPA) are delighted to announce the finalists for the 2022 Marketer of the Year Award (MOYA), proudly sponsored by Seeka.
Now in its eleventh year, the premier award for marketing excellence in the Australasian fresh produce and floral industries attracted an impressive field of entries from all points of the value chain, with the MOYA judges having their work cut out to select five finalists.
The 2022 MOYA finalists, in no particular order, are:
• Jenny Mercer of WA Farm Direct for the '2021 Bravo Apple' campaign
• Tropical Pines marketing team for the 'Spooky Pines' campaign
• Belinda Van Schaik of Hort Innovation for the 'Australian Bananas' campaign
• Elisa Siliato of Costa for the 'Perino Tomato - Hit the Sweet Spot' campaign
• Driscoll's marketing team for the 'Sweetest Batch' campaign
Each entry was assessed on how compelling the campaign was, its unique features, how appropriate the marketing tools were to the product and target audience, how well it was targeted at the particular market segment, and evidence of its success.
"Our judges found it extremely difficult narrowing the field down to just five finalists," explained Produce Plus editor Matthew Jones. "We have been amazed by the depth of entries we received again this year."
Darren Keating, CEO of IFPA A-NZ, added: "Each year, we see more innovation, more organisations from across the supply chain pushing the boundaries when it comes to marketing themselves, their products or services. We're really happy with our top five finalists and know they represent the best of the best in our industry."
The five finalists will showcase their campaigns on the trade show floor at Hort Connections in Brisbane on Tuesday 7 June.
The winner of the 2022 IFPA-Produce Plus Marketer of the Year Award will be announced at the Hort Connections Gala Dinner the following evening (8 June).
IFPA and Produce Plus congratulate this year's finalists and thank all nominees for their impressive entries.