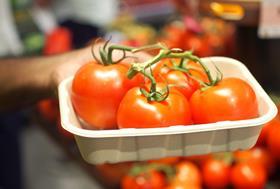 BioPak has expanded its range of sustainable packaging with its new BioCane produce tray.
The plastic-free trays are made from responsibly sourced sugarcane pulp. They are 100 per cent carbon neutral and are compostable in home compost bins or commercial composting facilities.
The company, which focuses on providing sustainable packaging options, identified the need to an alternative to single-use produce trays in the Australian market and the BioCane produce tray is the solution.
With the tray, the company hopes to make it easier for producers to reduce waste.
A number of Australian producers have already started to work with the company to incorporate the trays including Westerway Raspberry Farm, vegetable grower Hydro Produce.
Richard Clark, owner of Westerway Raspberry Farm, said the trays tied in with the sustainable values of his farm.
"I'd seen paperboard options used in Europe and wanted to find something locally available. And the strawberry punnets made from timber offcuts while sustainable were not available at the scale the farm required," Clark said.