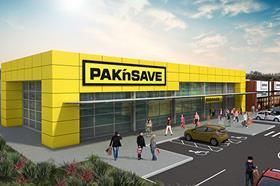 New Zealand's biggest grocery distributor, Foodstuffs, is trialling a virtual check-in solution aimed at improving customer comfort and safety during supermarket visits.
This solution is in response to New Zealand prime minister, Jacinda Ardern, enacting 'Level 4' safety measures in order to prevent the spread of coronavirus among the community.
The precautionary measures include maintaining a distance of 2m between each person, as well as a limit to the number of people in one place at any one time.
The check-in solution is currently being trialled at two Foodstuffs supermarkets, new world kumeu and pak'nsave Royal Oak, in New Zealand, and chief digital officer for Foodstuffs North Island, Simon Kennedy, said it had received overwhelmingly positive feedback already.
"Our goal with the virtual 'check-in' solution is to improve the customer experience when New Zealanders arrive to our stores to do their essential shopping," said Kennedy.
"The physical distancing measures we need to maintain inspired the teams to innovate a solution which would simplify store arrival and give customers the flexibility to wait where they please."
Under the trial customers must 'check-in' prior to entering the store. They can do so virtually, via their mobile, or in person at the customer service desk.
According to Supermarket News, customers who check in on their phones will receive a text when it's their turn to enter. Customers who physically check in with a team member at a desk will have their names put on a list, and their name will be called when it's their turn to enter.
"New Zealanders are settling into a new normal and consolidating their shops into one big shop so they can stay home and stay safe," said Kennedy.
"It's great for all customers, but particularly for those who are vulnerable or elderly who can now wait somewhere more comfortable. By reserving a virtual spot in line, they can now wait in their car or go for a walk around the block to get some fresh air."
Further national roll out of the trial is slated for discussion.