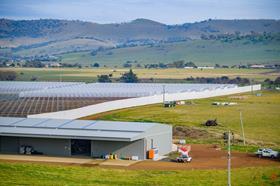 The first harvest of its Tasmanian-grown raspberries, now in its final stages, has been deemed a success, prompting Piñata Farms to push on with plans to expand its operations in Orielton, Tasmania.
Piñata's managing director, Gavin Scurr, said key infrastructure including polytunnels and a high-tech packhouse were already in place to enable expansion plans. The packhouse features what is believed to be the only heat-sealing machine in Tasmania.
Planting for Tasmania's summer crop is anticipated to begin around September or when conditions were optimal, explained Scurr.
'Raspberries have been harvested continuously at Orielton for the past six months and fruit quality and yield has exceeded expectations. Given the farm was a greenfield site, there was a lot to make happen before the first harvest including the erection of wind breaks to protect the crop,' he said.
'Of Piñata Farms' raspberry growing regions, conditions at Orielton are the most like that of Europe where the varieties were bred. Therefore, the location is ideal for raspberry production and the result has been exceptional berry size and taste.
'We're very excited about the future of Tasmanian-grown raspberries,' he said.
Scurr said Tasmanian consumers, and particularly those local to the Orielton region, had embraced the berry offering and the farming business.
'Consumer feedback from the very first berry picked has been positive and the Orielton community has enthusiastically shown its support for the farm both as a local business and employer.
'At the peak of the harvest, we employed 25 people including a mix of locals and backpackers both in the field and the packhouse and that number will increase in line with production over the next year.'
The farm, which is connected to the South-East Irrigation Scheme, is expected to enter full production by 2024.
Additional polytunnels are now under construction, with beds and trellises being set up in preparation for spring planting. Picking will resume again in November and continue until next winter. Raspberries produced at Orielton are distributed to selected Woolworths stores in Tasmania and Victoria.
Specialty BerryWorld strawberry varieties would also be trialled at Orielton during the next 18 months, said Scurr.
Meanwhile, Piñata Farms has appointed agricultural consultant and horticulturalist Liam Riedy as berry general manager to oversee berry operations at all locations.
Piñata Farms produces specialty BerryWorld raspberries in three locations - Wamuran and Stanthorpe, southern Queensland and Orielton, Tasmania.
BerryWorld is a joint venture between global berry breeding and marketing company, BerryWorld Group, and Piñata Farms. It was established in 2016 to grow and market proprietary BerryWorld varieties exclusively in Australia and New Zealand.
Scurr indicated the Wamuran region is currently harvesting seven days a week for distribution to selected stores in Queensland, New South Wales and Victoria. The Stanthorpe farm finalised its harvest in mid-June.
'Climatically Wamuran is a very different environment (from Orielton) to grow raspberries in and we've had to adapt practices to grow raspberries there. It's the second year we've produced a crop on the Sunshine Coast and it's performing very well.
'The entire Stanthorpe region has been challenged with a lack of water due to ongoing drought but despite this, the quality of fruit produced was also excellent.'
Scurr said he expected Queensland-grown raspberries will be available until late December.