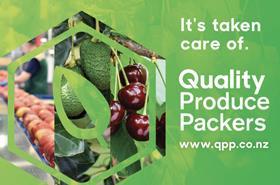 Quality Produce Packers is offering a new and competitive packing service to produce businesses.
Currently packing for retailers, growers, wholesalers, and exporters in New Zealand, Quality Produce Packers packs fresh produce to your exact specifications.
The company's launch opens a new frontier to produce businesses, increasing accessibility to automated produce packing, and offering a cost-effective option to compare against existing produce packing solutions.
"Think of us like your packhouse partner, offering a highly professional, automation led solution, to reduce cost and increase consistency to your end customer" said Justin Klumpp, the General Manager of Quality Produce Packers.
The business is uniquely positioned to both re-pack and retail pack a full range of fresh produce. It is open seven days and packs everything "from apples to zucchini". Services include weighing, processing, grading, punneting, bagging, and labelling.
"We can take on your business' needs and virtually pack anything overnight," said Justin. "We're different to most packhouses because we have a solution for every fruit and vegetable product."
The business takes care of everything needed to pack produce for today's market. This includes the ever-increasing cost and complexity of food safety.
A specialist packhouse, Quality Produce Packers supports produce businesses to pack with efficiency and deliver quality.
Contact Justin to discuss produce packing today.
Justin Klumpp
QPP General Manager
+64 27 836 3996