Featuring keynote interview with MOYA winner Belinda Van Schaik and spotlights on avocados, apples and pears, packaging and grading, and retail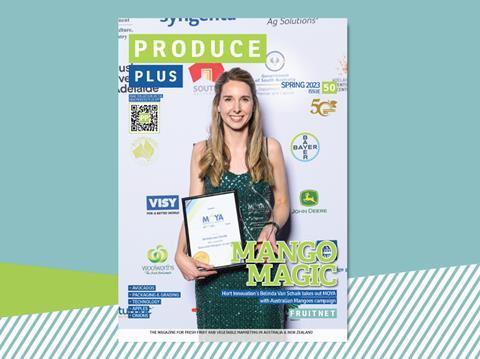 The Spring 2023 edition of Produce Plus Magazine is now live on the Produce Plus app – available via the App Store, Google Play or on your desktop.
This edition features an exclusive interview with Hort Innovation's Belinda Van Schaik, winner of the 2023 IFPA-Produce Plus Marketer of the Year Award, sponsored by Seeka.
Van Schaik headed up the successful Australian Mangoes campaign that sought to increase mango consumption in Australian households by celebrating the joy that comes with eating a mango.
The campaign emphasised the hedgehog preparation technique to address consumer concerns around ease of preparation and messiness, while its tagline 'Taste the sunshine' evoked a tropical, delicious, sensorial experience.
"Winning the award is a testament that our collaborative planning process is working. To have the mango marketing campaign recognised as an example of best practice is an opportunity I'm thrilled to share on behalf of everyone who makes up 'team mangoes'," she said.
Avocados are in the spotlight with insights into some of the latest marketing efforts in the category including an interview with Reservoir Partners' David Weisz who manages the Delcado brand. Plus, updates on key export developments for the Australian industry. New varieties also make headlines in the apple and onion categories.
Paul Slupecki, chief executive of Tomra Fresh Food, also talks about how a new generation of sorters and graders is harnessing the power of artificial intelligence.
The 2023 Spring edition also marks the 50th issue of Produce Plus Magazine, and a special feature looks back at some of the editions and stories that have stood out in over a decade of publications.