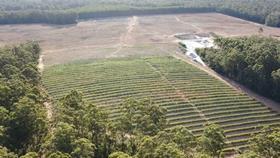 Alterra has announced it lodged a A$693,945(US$535,614) research and development (R&D) claim with AusIndustry and the Australian Taxation Office to help fund its avocado project.
The R&D tax incentive recognised the avocado growing methodology that Alterra implemented in the initial 5ha of its flagship 300ha avocado development in Pemberton, Western Australia. The R&D funds will be used to meet preliminary development costs for the next 52ha planting.
Oliver Barnes, chief executive of Alterra, said the company was combining proprietary research, learnings from the citrus and stonefruit industries and hydroponic methodologies traditionally only used for high-value products such as berries, to improve production efficiency.
"We are utilising intelligent irrigation and fertigation systems and real-time detection systems for soil and root health which is expected to deliver increased yield and fruit size. Our aim is to achieve more than 90 per cent premium-grade fruit at 28 tonnes per hectare," Barnes said.
Alterra's project has progressed to the next stage of development after the company completed its feasibility study at the end of 2020. Since then, it has been focused on managing the 5ha trial site and securing funding.