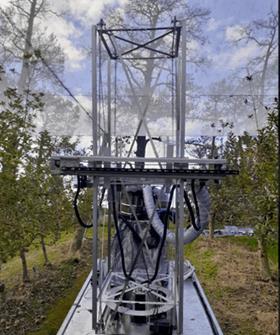 Apples will be harvested robotically at Goulburn Valley-based Turnbull Brothers Orchards this season in what is believed to be the first commercial trial of robotic apple picking in Australia.
Alex and Chris Turnbull – and separately fellow GV grower Mitchell McNab – have engaged Australian-based Ripe Robotics for the entire 2021 harvest, paying on a piecework rate.
Turnbull said while they were not relying on the robotic harvester with its single suction arm to harvest the entire 9,000 - 10,000 bin apple crop, they were hoping to learn a lot about the technology through the trial to better position themselves as early adopters.
"We will have them here for the entire season from late January to May doing Gala, Granny Smith, Modi and Pink," he said. "If the guys are interested to give it a go on pears, we hope to do a trial on Williams pears and wouldn't mind trying canning peach.
"We are very excited about the flexibility we hope it will bring to harvesting in the long term."
Turnbull said the timing was serendipitous rather than born out of a labour-shortage response; Australia's horticulture industry facing a labour shortage of up to 26,000 workers during the peak summer season.
A Seasonal Workers Programme team from Samoa will provide labour for the Turnbull's operations for a the third year.
"We don't think this is going to solve our labour issues this year," said Turnbull. "It's a proof of concept. At the rate they have offered it to us it is comparable to the cost of labour.
"For it to be viable we really need it to be more productive. This one they are planning to use has got one arm picking at the moment. In future it might have many more and it can work during the night.
"We wanted to understand it ourselves and see if we need to modify the tree architecture or what else we might need to adapt to put us at the bleeding edge," he explained.
Turnbull highlighted that other growers had been trialling robotic harvesters from the US and New Zealand, but said the fact Ripe Robotics are Australian, young and enthusiastic, and keen to be involved in the industry, made them want to work with them.
"It is still a commercial understanding – just like you would pay a picker. We pay a deposit, but a piecework rate thereafter," explained Turnbull.
He also said the predominantly Tatura trellis and vertical 2D systems on the orchard made it suitable for robotic harvesting. "I guess we were of the mind even 20 years back the future was robotics or mechanical assist and we started preparing for that."
The Ripe Robotics team has been hard at work this year testing their machine on a range of apple and orange orchards prior to launching a small commercial fleet in 2021.
Chief executive of Ripe Robotics Hunter Jay said moving from a prototype to commercial scale picking was a huge change.
"If we can pull it off it will be revolutionary for the industry, especially now," said Jay. "We're super excited to be working with Chris, Alex and Mitchell on this and are looking forward to meeting other growers interested in advancing the technology locally."
The robot is designed to work on a range of different orchard layouts, but is most efficient on modern 2D trellis or V-trellis blocks. A new version of the robot is expected to be launched next year and the focus of the trial will be on increasing speed and reliability, with continuous upgrades managed from a local headquarters.