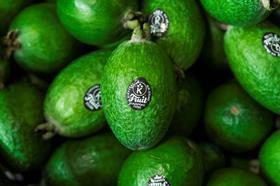 New Zealand's feijoa season is reportedly looking bright, as fine weather has brought about an earlier harvest than usual for the fruit.
T&G Fresh's key supplier of feijoas, Kaiaponi Farms, is expecting another great season with ideal weather conditions and a new packing line bringing greater consistency of fruit to consumers.
Kaiaponi Farms commercial manager, Barton Witters, said plenty of irrigation and a bit of rain has them expecting a slightly bigger fruit size profile this season, which he thinks will resonate among Kiwi consumers.
"With T&G Fresh as our preferred feijoa distributor for the second year, we look forward to continuing to provide top quality fruit at an accessible price under our K-fruit brand," said Witters.
T&G Fresh and Kaiaponi Farms are working together on a new season social media campaign to drive consumers to K-fruit.
T&G Fresh Trade marketing manager, Louise Srhoj explained the campaign will share various recipes and include a giveaway of the delicious, high fibre fruit, which is rich in Vitamin C.
"As there is only a small harvesting period for feijoas, getting awareness out to our consumers quickly is vital to ensure the popular fruit can be enjoyed by many," she noted.
Kaiaponi Farms has been growing feijoas in Gisborne for the past 20 years and has gained market share by growing larger commercial blocks of the newest varieties, enabling greater consistency, size and taste compared to what's currently on the market.
"We pride ourselves on having a crop that is picked daily and shipped to market overnight, to ensure the fruit is of the freshest quality for our consumers each and every season," added Witters.
With harvest beginning this week, fruit is anticipated to reach supermarket shelves in New Zealand imminently.