Produce lead for fruit importer SKU takes out Horticulture New Zealand competition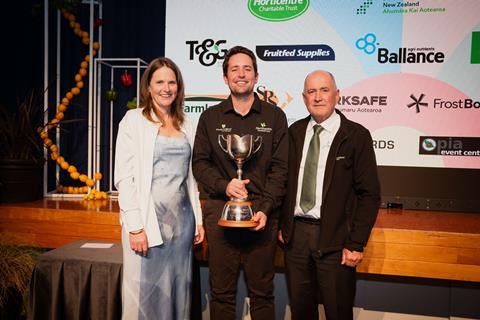 The Horticulture New Zealand (HortNZ) 2023 Young Grower of the Year competition has been won by 28-year-old produce lead Taylor Leabourn.
Leabourn said the national competition was a noticeable step up from the regional competitions held earlier this year. He also appreciated being able to compete for the national title in his home region for the final.
"It was so nice to be on my home turf, there were a lot of familiar faces, and it was pretty special for it to be in Pukekohe," said Leabourn.
Leabourn won the Pukekohe regional competition in May when he was working as an agronomist at Leaderbrand and six weeks ago he started a new job as a produce lead for fruit importer SKU in Wiri.
"It's been great to learn a new skill set and to test myself. I'm really enjoying it and it's been refreshing looking at the cool store/warehouse/packhouse side of the horticulture business," he said.
The competition tested the vegetable and fruit-growing knowledge along with the skills needed to be successful growers. Competitors completed practical tests in nutrition and fertigation, tractor operation, integrated pest management, keeping everyone healthy and safe, agrichemical stewardship, and horticulture biosecurity. They also completed two business activities — innovation and a leadership panel — and gave a speech.
Leabourn won the innovation, business, practical, and young vegetable grower categories before taking out the national title.
"We were given lapel mics which gave you the freedom to own the stage. Everyone's speech was amazing. Afterwards, Barry told us we had great speeches — the whole contingent of us did an amazing job. It's a real recognition of how great the other five contestants were, such strong competitors and it was a nice group of guys and girls," said Leabourn.
He also congratulated runner-up Jan Buter, who also won outstanding leadership, speech, and young fruit grower of the year.
"Jan was great, and I really thought he was going to win. He was so confident and knowledgeable about the industry," said Leabourn.
HortNZ president, Barry O'Neil, said the organisation takes great pride in hosting the final in different parts of the country every year and appreciates the support received from local growers.
He said of the six young leaders worked hard to get to the national competition and gave impressive with their speeches.
"Four out of six speeches focused on the Aotearoa Horticulture Action Plan outcome area of Nurture People. And nurture people we must. I encourage you to consider how you can contribute to this outcome area of the action plan to attract, retain, and grow great people in horticulture," said O'Neil.
HortNZ general manager of strategy and policy Michelle Sands said it was important to highlight the work of regional organisers who host and run the competitions across six regions.
"Their dedication is what drives this fantastic industry-wide programme, and our young growers wouldn't have made it to this national stage without them," said Sands.
"It is important for us all to support the next generation of horticulture industry leaders. We are so fortunate to have so many passionate and talented young leaders pursuing careers in our industry."
The other 2023 finalists were Gregoire Durand from Central Otago, Dillon Peterson from Nelson, Sydney Hines from Bay of Plenty, Emily Samuel from Gisborne and Jan Buter from Hawke's Bay.