New Zealand retailer will sell fresh fruits and vegetables in more stores after strong response from consumers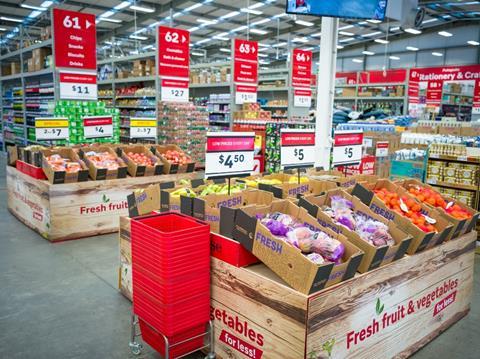 The Warehouse has announced it will be expanding its fresh fruit and vegetable trial to a further five stores and three new regions across New Zealand.
Manukau, Te Rapa (Hamilton), Fraser Cove (Tauranga), Eastgate (Christchurch) and Dunedin South have been added to the list of The Warehouse stores stocking a range of fresh fruit and vegetables, joining Whangārei, Westgate (Auckland), Lyall Bay (Wellington), Riccarton, Timaru, and Invercargill, which have been piloting fresh items since February 2023.
The Warehouse Group chief executive Nick Grayston said the retailer was encouraged by the reaction from its customers.
"We've had a very strong response from customers since we launched fresh fruit and vegetables in our initial six stores. Items that are locally grown and great value are important to our customers right now, and this expansion doubles our fresh offer across The Warehouse," said Grayston.
"Grocery is an area we are working hard in, but the lack of access to wholesale supply at equitable cost prices remains our biggest barrier to doing more. The supermarket duopoly is very comfortable with the status quo. We're not, and we'll continue to push to make groceries more affordable for Kiwi families.
"We know every dollar counts so expanding our fresh fruit and vegetable offering into more stores is another important step for us."
The range is reviewed weekly based on seasonal availability and The Warehouse is currently selling carrots, onions, potatoes, apples, bananas, lemons, golden kiwifruit, mandarins, avocados, and garlic.