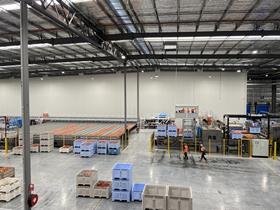 As Montague's first apple season with its new packhouse comes to an end, the Tomra Food's grading technology featured has delivered some key outcomes.
The state-of-the-art packhouse was officially opened in April but has beenpartly operational since early-2021. The packhouse is equipped with Tomra's Inspectra2 , Spectrim and UltraView inspection systems.
Paul Slupecki, head of global sales Tomra Fresh Food at TOMRA Food, said the three grading systems inspect the fruit as it enters the production process to ensure the highest quality of the end product.
'The grading accuracy of Tomra systems offers peace of mind and protects the brand, ensuring the highest quality produce, improved hygiene and food safety, and the assurance that the right fruit is always in the right box,' explained Slupecki.
Rowan Little, chief innovation officer of Montague, said the company had clear expectations when it came to fitting out its packhouse and choosing Tomra's technology so it could meet its customers' needs.
'Core benefits are the ability to grade stem end defects, identify and categorise a wider range of disorders, and the enhanced accuracy and grading fruit for internal defects," said Little.
"The accurate grading of fruit gives us the ability to closely align our product to our customers' requirements. From a production perspective, the project will give us greater visibility of fruit grade in the process, meaning less fruit in packed cartons in cold storage.'
The digital connectivity offered by Tomra's solution addressed Montague's need for packhouse-wide integration.
'The potential to provide timely and accurate data up and down the supply chain will be critical in the longer term. For growers, this will mean the ability to manage orchard activity to address issues that have negatively impacted packout," said Little.
"For the retailer, it will mean more data on fruit characteristics prior to the raising of purchase orders. This should allow for the better matching of orders to the fruit manifest.'
Overall, Little said Montague was satisfied with the work Tomra had done to ensure the packhouse was operational in the midst of a global pandemic.
'The thing that stands out most is the ability of Tomra Food and their partners to deal with challenges beyond their control. Building a new production facility in the midst of a global pandemic was a considerable challenge. They worked diligently to stay on time and within budget despite these challenges," said Little.
'Tomra Food embraces collaboration. They actively look for solutions to problems and add resources when issues arise.'