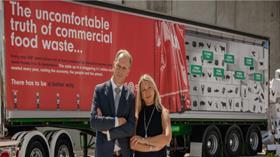 Waste management company Suez has invested in Yume Food, an online wholesale marketplace for surplus food including fruit and vegetables.
Founded in 2016 by Katy Barfield, Yume works closely with manufacturers and primary producers to understand their surplus food problems.
Now Suez Australia & New Zealand has taken a 20 per cent equity stake in Yume as part of an investment in the circular economy.
Mark Venhoek, chief executive of Suez said synergies between the two companies meant the decision to invest was an easy one.
"At Suez, our purpose is shaping a sustainable environment now and one way we demonstrate that is through a commitment to the circular economy," explained Venhoek.
"It makes perfect business sense for us to support an organisation that shares that ethos, challenging the way we look at surplus food and diverting it from landfill.
"This equity investment will leverage our extensive network of customers to bring together food suppliers with food buyers. The result will be better outcomes for quality surplus products that would otherwise go to waste, in turn, benefiting the environment and the economy."
Barfield said she welcomed Suez's investment, which would help Yume expand its impact by tackling the enormous amount of food waste in Australia.
"Each year in Australia we throw away an incredible 7.3m tonnes of food equivalent to the weight of the Sydney Opera House – 45 times over, 55 per cent of this occurs in the commercial food sector," Barfield said.
"Food waste has a devastating impact on the environment and the time is now to make sustainable practice, common practice. I'm thrilled that Suez is bringing its global expertise in waste and resource management to Yume, to help us further our reach and maximise the work we can do for the good of the planet."
Yume has prevented nearly 3,000 tonnes of quality surplus food from becoming waste and has returned over A$8.4m to Australian growers, manufacturers and businesses in less than five years.