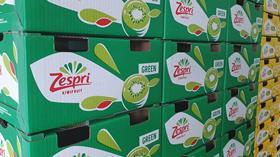 Over 20,000 students across New Zealand will take part in the 2021 Zespri Young and Healthy Virtual Adventure.
Launched today (1 November), the health and wellbeing programme takes students on a virtual trip around the globe, instilling healthy habits along the way.
The virtual adventure is sponsored by Zespri and sportswear brand Asics.
Classes taking part in the programme work as a team to travel across the world. Along the way they are met by sporting heroes – Asics ambassadors Ardie Savea, Ameliaranne Ekenasio, Kane Williamson and Samantha Charlton – who share interesting facts about local history and geography, as well as some of their personal health tips, including eating extra fruit and vegetables.
"The programme has been perfected for the digital generation with each child designing a unique avatar which they'll see interacting with their classmates and the sports stars at every stop," said Kim Harvey, founder of the Young and Healthy Trust.
"Better still, every real-world healthy choice – like moving their body, eating a piece of fruit or drinking water – comes with the instant reward of digital points to add to their class total."
Zespri chief executive Dan Mathieson said the kiwifruit industry is proud to help entertain students involved in this year's programme, and to help them build healthy habits.
"We're really proud to support the Zespri Young and Healthy Virtual Adventure as we know it brings positive benefits to the lives of thousands of New Zealanders, helping ensure happier, healthy young people and communities," said Mathieson.
"We've seen first-hand how investing in the wellbeing of our people and communities helps them thrive and we know this year's adventure will have a huge impact on kids – whether they are back at school or joining in from home."