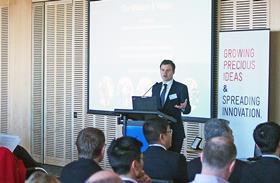 China's e-commerce giant Alibaba aims to have 2bn consumers on its platforms by 2026, and is on a mission to find great products from countries like Australia and New Zealand to drive the growth.
That is according to James Hudson, director of corporate affairs and marketing for Australia and New Zealand Alibaba Group, who spoke at a breakfast event hosted by Food Innovation Centre (FIC) and KPMG on 21 July.
"We want to connect these consumers to tens of millions of merchants and small businesses around the world," said Hudson.
Alibaba opened its Melbourne office back in February for the group's business in Australia and New Zealand, but Hudson explained that Alibaba is not currently focused on the consumer markets in these two countries.
"For Australia [and New Zealand], Alibaba is focused on a merchant strategy. It is about identifying great products, and connecting local retailers to Chinese tourists through Alipay and other platforms of ours," he said, and added that fresh food is one category that the group believes will have tremendous growth.
While China provides an attractive consumer market, Hudson pointed out that he was often surprised when many Australian companies would launch into the market without any prior research. His view was echoed by co-panelist Angeline Achariya, CEO of FIC.
"In Australia we have a high labour-cost market, high utility rates in the complex of supply chain. How do you create high-value premium products so you get a return? " said Achariya. "A green and clean image is not enough anymore. Many other countries can say the same thing. It is a value game."
FIC has established an exclusive partnership with the Nutrition & Health Research Institute (NHRI) of Cofco, the largest and state-owned food manufacturer, processor and trader in China. According to FIC, the two parties will collaborate on consumer, sensory and safety research, and ensure Australian companies a better chance of success in China.
To identify and promote Australian brands, an Alibaba E-commerce Expo will be hosted in Melbourne on 13-14 Oct 2017, during which the group will select and showcase 75 SME (small to medium enterprise) brands from Australia.
A full version of this article will appear in the Spring 2017 edition of Produce Plus.