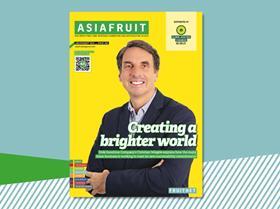 The July/August edition of Asiafruit Magazine is now available on the Asiafruit app –onAppleandAndroid– bringing you the latest news and views from across Asia's fast-moving fresh produce markets.
Christian Wiegele, president of the Fresh Produce Group of Dole Sunshine Company, talks sustainability in this issue of Asiafruit. Wiegele explains how the leading Asian business is working to deliver on the commitments set out in its 'Dole Promise'. Plus, he provides an update on how the group has handled the Covid-19 pandemic.
The latest advances across Asia's citrus trade are covered, including South Africa's new protocol for lemon exports to China and its firstcitrusshipments to the Philippines. Australia's Costa Group has grown its presence in the category with the acquisition of leading grower-marketer 2PH Farms, and we analyse what the deal means.
Avocados also come under the spotlight with New Zealand's industry continuing its push into Asia, the Philippines emerging as a producer and Chinese marketer Mr Avocado developing its Peruvian programme.
Get the first look at the themes of this year's Asiafruit Congress, which goes live and online on 28-29 September 2021, and a recap of the Global Grape Congress, which attracted 1,400 viewers from around the world.
Asiafruit July/August's market focus homes in on Thailand as it battles a new wave of Covid-19. Read how importers, suppliers and retailers have had to adjust and their views on some of the longer-term prospects in the market.
Zespri chief executive Dan Mathieson explains what the marketer's next steps will be after a grower vote on unauthorised Gold3 plantings in China failed to reach the required threshold. Plus, Asiafruit's Women in Produce series features Kanako Inomata, the creative mind behind Zespri's Kiwi Brothers.