Asia Fruit Logistica and Asiafruit Congress edition previews in-person return of the biggest event on the calendar for Asia's fresh produce business
The October 2022 edition of Asiafruit Magazine is now available on the Asiafruit app – Apple and Android – bringing you the latest news and views from across Asia's fast-moving fresh produce markets.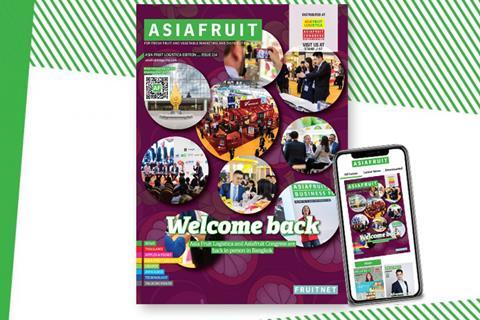 The Asia Fruit Logistica and Asiafruit Congress special previews the in-person return of the biggest event on the calendar for Asia's fresh produce business – and it's free to access for all attendees.
This bumper edition includes all you need to know in the lead-up to Asia's premier fresh fruit and vegetable trade show and conference event, which takes place on 2-4 November at the Queen Sirikit National Convention Center in Bangkok. The exhibitor preview provides a snapshot of businesses from around 40 different countries showcasing their products and services at Asia Fruit Logistica.
Exhibitors from all regions of the world, including Asia, Europe, the Americas, Australasia, Africa, and the Middle East, share news of the exciting offerings they will have on display.
Asiafruit Congress takes place on the expo floor this year alongside Asiafruit Business Forum to deliver an unrivalled combination of information and insights. For the first time, Asiafruit Congress is free to attend for all Asia Fruit Logistica attendees, and this edition includes a full preview of the programme highlights.
With Asia Fruit Logistica taking place in Bangkok this year, the special issue also includes a market spotlight on Thailand. As Thailand's fruit trade heads into its peak season for imported fruits, the market spotlight looks at the latest trends and highlights the big developments in the rapidly evolving retail sector.
Category spotlights cover the latest news on the Northern Hemisphere apple and pear season and insights from the Asian import trade. Read about the gains being made by Asia's avocado suppliers and how the stonefruit category is continuing to evolve. Features on technology, packaging and grading, and logistics are also included.