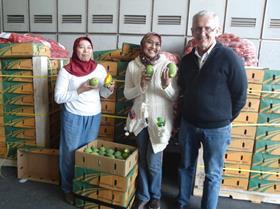 Indonesia sent mangoes to Hong Kong for the first time by sea last December, thanks to an export project funded by Australian Centre for International Agricultural Research.
The successful arrival of the Arumanis mango consignment in Hong Kong from Surabaya, Indonesia, has prompted interest in exporting the fruit to other Asian markets by sea.
Ian Baker, technical consultant on the Indonesian-mango export-project for the last three seasons, told Asiafruit that Indonesian mangoes have strong potential for export to Asian markets.
"Firstly, Indonesia produces 1.3m tonnes of mangoes annually, most of which is sold domestically for as low as US$0.20 per kg," he said. "Secondly, the fruit is produced between September and December when other Asian production is low. Thirdly, transit costs are low: from Surabaya to Hong Kong takes only five days. And last but not least, is the low production cost. Labour is cheap and sending the fruit by sea results in an attractive price for buyers."
The Arumanis mango is a sweet mango that ships well. One disadvantage is its colour: it is green when ripe. But the major challenge to the success of this Indonesian-mango-export project is maintaining produce quality.
"Research has identified the best growing areas (drier areas yield mangoes with longer shelf-life), and are educating the farmers about easy-to-implement pre- and post-harvest treatments," explained Baker. "Fruit disease is always a big problem with seafreight mangoes. For this shipment we had no disease using technologies we have adapted from Australia, easily eliminated with an easy post-harvest procedure and is an essential issue to address before trying to access export markets."
This large commercial shipment identified some other issues of skin marks that Baker thinks can be easily solved. "Commercial shipments are very important part of good research" Baker says.
Hong Kong importer Prestige China Development (PCD) received the December Indonesian-mango consignment and marketed it to wholesale markets and ParknShop supermarkets in Hong Kong.
Both sales channels said they were interested in further shipments, but indicated that certain quality issues, such as damaged and discoloured skin, must be addressed first.
"Our clients were positive about the taste of the product," said PCD's Rutger van Wulfen, "and are excited about the opportunity of having an Indonesian mango on the shelves during the winter months."
The success of the Hong Kong mango trial will pave the way for further Indonesian mango exports across Asia, said Baker.
"In future we will look into other markets in China and India, especially the latter since it has such a mango-eating population," he said. "But for now we will focus on 'easy-access' markets like Hong Kong, Singapore and Kuala Lumpur, as they have the necessary trade agreements in place."
Indonesian mango exports have a good future if quality issues are resolved with good research. Timing, cost, proximity and a large production base make export development very attractive.