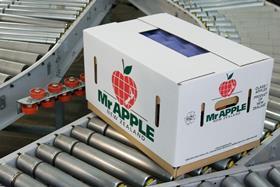 Scales has posted its 2020 results and while apple exports were up, profits were down, as were earnings for its horticulture division.
For the 12 months to 31 December 2020 (FY2020) Scales reported a revenue of NZ$470.7m (US$345m) (FY2019: NZ$484.6m), and an underlying EBITDA of NZ$53.9m (US$39.6m) (FY2019: NZ$52.7m).
It also reported a NPAT of NZ$26.6m (US$19.5m) of FY2020, down from NZ$121.6m in FY2019, although the 2019 figure was inflated by the sale of its coldstore business Polarcold.
In its horticulture division, underlying EBITDA was NZ$31.4m for FY2020 (FY2019: NZ$39.7m) with Mr Apple own-grown export volumes growing 2 per cent year-on-year to a record 3.915m TCEs.
Andy Borland, managing director of Scales Corporation, the disruption of Covid-19 affected each of its markets differently.
"Whilst Asia and the Middle East were adversely impacted (partially also due to the overlap of lockdowns and the Chinese New Year sales window), sales to Europe and the UK remained firm," said Borland.
"Mr Apple's diversified sales network enabled it to mitigate these market specific impacts. We also exhibited growth of our high-value premium varieties, with a 4 per cent increase in these volumes compared to last year."
Borland said Scales continued to look for ways to improve with new plantings and infrastructure upgrades set to deliver in the coming years.
"Phase 2 of our orchard redevelopment programme was completed, with over 140ha of orchard having been redeveloped between 2018 and 2020, predominantly in the high-value, branded, Dazzle variety. Plantings adopt new '2-dimensional' techniques enabling efficiencies in pruning, thinning and picking. We anticipate these orchards will reach commercial scale from 2023 onwards," said Borland.
"Mr Apple is focused on opportunities to maintain or improve current margins. The completion of the new Whakatu coolstore, expected to provide operational and logistics efficiencies, is an example of this. Acknowledging that the environment for the availability and cost of labour has changed, the company intends to accelerate further automation initiatives, particularly in post-harvest operations, during FY2021."
However, Tim Goodacre, chair of Scales Corporation, said the immediate future held some uncertainty with third-party apple exports from the Tasman region and Mr Apple own-grown volume predicted to be lower in 2021. Lower levels of stone fruit exports have also affected the Scales logistics division.
"The start of 2021 has not been without its own challenges. Inclement national weather events have taken place over the key growing period and global supply chains continue to be disrupted, with ongoing delays in shipping and increased costs," said Goodacre.
"As a result, the board has amended underlying net profit guidance for the group to be between NZ$27.5m and NZ$33.5m, implying an underlying EBITDA range of between NZ$46.5m and NZ$53.5m."