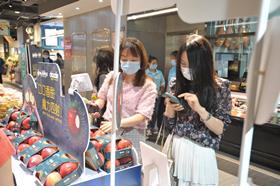 Mr Apple has captured the attention of Chinese consumers with New Zeland's newest apple variety, Dazzle, in recent demos conducted in Hema stores.
Ben McLeod, global sales and marketing manager of Mr Apple, said the demonstrations held in Shanghai marked a first for the company.
"This is our first promotional push to consumers for Dazzle and we are really pleased with the results," McLeod said.
"We soft-launched Dazzle at Asia Fruit Logistica 2019, introducing our retailers and trade partners to this new beauty. They loved the size, the consistent red colour and sweet, crisp texture and the fact Dazzle is very shelf-stable and sells fast because it looks great and eats well all season long."
The variety was developed by New Zealand's Plant and Food Research over the past 20 years and was bred specifically for characteristics targeting Asian consumer taste preferences.
Lisa Cork, special projects manager of Mr Apple, said so far Dazzle has not disappointed as consumers have flocked to the apple, proving the variety is not just popular with trade customers, but with consumers too.
"Demo feedback shows consumers loved the colour and the sweet taste. Because this is a special variety bred for a specific taste preference, it is great to see consumers embracing Dazzle for the crispy, sweet taste they love in apples," said Cork.
To further differentiate its Dazzle apples, Mr Apple launched specially branded, eco-friendly four-packs which Cork said were a hit.
"In China, high-value apples need the differentiation of packaging to drive the brand and capture consumer attention," explained Cork.
"By focusing on an eco-friendly cardboard pack, we achieved the branding we wanted to achieve but in a more environmentally friendly way."