India's premier fresh produce event kicked off its packed programme with insights into how digitisation and varietal innovation will create new opportunities
Fresh Produce India 2022 drew the attention of the global fresh produce industry on 28 April, delivering exclusive insights into one of the world's largest markets.
India's premier fresh produce event was held online for the third year, enabling hundreds of viewers from around the world to hear about the latest trends from key players in the business.
Digital revolution
Fresh Produce India's opening session – Going digital: new tracks for India's fresh produce Business – explored how digitisation is reshaping India's fresh produce landscape.
Maneesh Dumbre, head of sourcing for fresh produce e-commerce start-up Pluckk; Vasudevan Chinnathambi, co-founder of fresh produce supply chain start-up Ninjacart; Manav Suri, of leading distributor Suri Agro Fresh; and Sanjay Borkar, co-founder of FarmERP, joined the event to talk about how technology is changing India's fresh produce industry at every step across the supply chain.
Pluckk specialises in fresh produce and Dumbre said it was seeking to capitalise on some of the trends that have emerged in India since the onset of the pandemic, namely increased online shopping and a consumer focus on health.
"Customers are not only looking for daily fruits and vegetables, but they are looking for products suitable for their health; they're looking for immunity boosters or fruits that are good for their eyes and skin," said Dumbre.
"All the online players are educating customers and raising prices and improving the experience and the customer is evolving. Competition is only helping online retail and I don't see it going down."
Chinnathambi explained the effect digitisation was having across the supply chain, improving visibility, connectivity, logistics and access to capital. He also noted how start-ups were perfectly placed to drive further technological change, particularly through collaboration.
"I think the availability and accessibility of longtail products, which are exotic fruits, seasonal fruits or globally available products, will go up," said Chinnathambi.
"We will also see a lot of quality-first retailers and overall the accessibility and availability will improve not just for the exotic produce, but also regular produce because supply chains are getting better."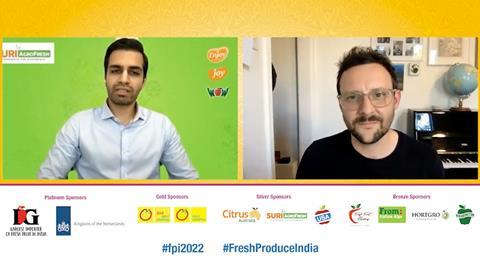 Suri discussed his company's new app SAF Green, which enables fruit shops and wholesalers to order their fresh produce online for doorstep delivery. He also explained how Suri Agro Fresh is leveraging artificial intelligence to help Kashmiri apple growers improve their production.
"The conversion on the app was to bring all our customers on one single platform. All buyers can buy whatever produce we have, and whatever information that comes on our platform is just in time," explained Suri.
"The primary focus of the app is to bring in transparency to the farm level and also to the consumer level.
"We are very careful with what products come onto the system and how we're selling them. All sales are happening through reefer trucks only and we're ensuring that whatever produce comes on the app, a complete cold chain is followed to deliver that particular product."
Borkar joined Fresh Produce India to discuss digitisation at a farmer level and how progress at this level would flow onto the rest of the fresh produce supply chain.
"In the past few years, the digitisation and digitalisation trend is growing day-by-day, year-by-year, especially when it comes to farming," said Borkar.
"There are a lot of opportunities which are coming out this digitalisation. Agricultural exports for India are forecast to grow to $50bn.
"Now, if you want to achieve this number, the entire value chain, from growing, aggregating, cleaning and packing right to shipping, needs to be using latest technologies. Farmers must adopt the tools which help bring efficiency and improve productivity."
New generation of genetics
Fresh Produce India 2022 then zoned in some of the varietal innovation taking effect in India in a partner content session with IG International. The leading importer has made a foray into Indian farming and production, and recently entered two new partnerships to bring leading global genetics to India.
Tarun Arora, director of IG International, and Ido Ben Dor, managing director of Ben-Dor Fruits and Nurseries, discussed their new licensing agreement involving apple, pear and stonefruit varieties.
"India has great potential for cultivation," said Ben Dor. "There are a lot of places to grow and to market inside the Indian market, not even looking at export."
Ben Dor said the varieties would be suited Indian growing conditions given their adaptability to hot and cool climates. Arora said they would allow IG to grow closer to consumers and introduce them to improved produce.
"We are delivering a much better product with much better quality to the consumer. We are very, very certain that the consumer will like our product and in three years we will give them [superior] flavour."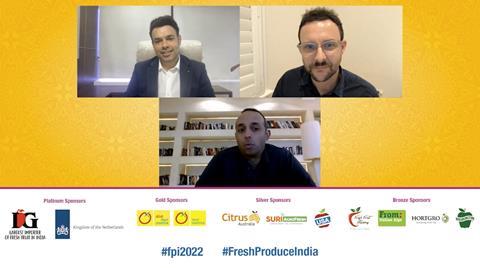 IG has also entered a joint venture with leading Turkish apple producer Engin Tarim to develop apple production in India with the goal of developing some 50,000 tonnes of apples planted to five leading varieties over the next three years.
Seyda Ertug, chairman of Engin Tarim, joined Arora at Fresh Produce India to discuss the venture.
"India is our target market; it is our biggest export market and IG is the biggest importer of Turkish apples in India, so it was it is so natural to make such a joint venture together," said Ertug.
Aurora said India's agriculture and apple industries still had much to learn from the world and this joint venture would allow IG to utilise Engin Tarim's expertise and improve the trade relationship between the two countries.
The new varieties are set to complement IG existing offering with qualities such as an early harvest, and improved colour and flavour to provide a point of difference, according to Aurora.