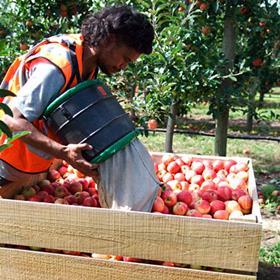 More than 80 representatives for New Zealand's primary sector met via teleconference overnight, as discussions focussed on what services should remain open, and what shouldn't.
Only essential services are to remain open, and representatives agreed this must include all orchards, pack-houses, cool stores and export entities, as long as they operating under strict rules that have been put in place.
All non-essential services will be closed, as the New Zealand government aims to curb the spread of Covid-19.
A key message from the briefing was that "New Zealand can't change the virus to suit operational needs; but it can change operational needs to suit the virus".
In a statement, HortNZ said the expectation is any essential service that will remain open must change the way it operates to minimise the risk of spreading the virus.
In order to remain open, operations must address a number of key questions, including how its workers are observing social distancing at home, on the way to and from work, and while on breaks, personal hygiene steps in place, availability of PPE and what actions will be taken in the event of a confirmed infection.
The full list of criteria can be found via HortNZ. Should a business not be able to answer these questions, it will not be able to remain open.