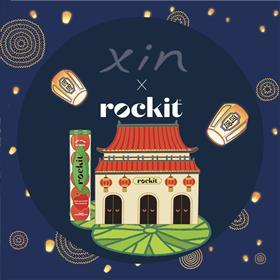 One of the biggest dates on the Chinese calendar is being celebrated by Rockit in a creative partnership with renowned Shanghai-based artist, Yixin Zeng.
Thousands of limited edition Rockit gift boxes, designed and drawn by award-winning artist, Yixin, will go on sale this week to mark the Mid-Autumn Festival.
Each gift box contains either three or six packs of Rockit's iconic miniature apples, with the six-pack customisable by the purchaser to send greetings of love to friends and family across China.
Yixin has previously collaborated with international fashion houses such as Burberry and Dior, and Rockit general manager global marketing Julian Smith said it would prove an iconic creative partnership.
"Collaborating with Yixin ensures Rockit makes an impact in store and online, with a covetable, beautifully designed box that resonates strongly with a growing number of Rockit's on-the-go millennial consumers.
"We have a wonderful history with Yixin and we love how his intricate, flawless design weaves together the seasonal creative elements of the Mid Autumn Festival with a local interpretation of the Rockit brand design," said Smith.
Yixin's illustration depicts apple slices as traditional boats, built environments made from apples and the soaring lanterns that represent the warm wishes sent between friends and family at this time.
The Mid-Autumn Festival runs from 19-21 September and is a highlight in China, with gifting a major component of the holiday. Smith said Rockit aims to promote a healthier gifting experience as Chinese consumers gain a deeper understanding of the nutritional impact the snack-sized apples can provide.
"We're working with online influencers across a number of digital platforms to create even greater awareness of our apples within our target markets," Smith explained.
"Although Tiktok remains key for us, another platform we're really investing in is Little Red Book, which is increasingly the platform of choice for modern Chinese women making household purchasing decisions.
From there, they'll be able to click through to Tmall, an online shopping experience where customers can easily purchase our products for delivery. Our Tmall sales volume has tripled over the last two months, demonstrating how effective our marketing efforts and ecommerce promotions have been in this market."