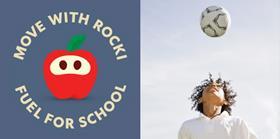 Continuing to build momentum following the global roll-out of its new brand in July, miniature apple company Rockit has launched its biggest ever sales and marketing campaign, which it hopes will connect with millions of new consumers.
From Mainland China to the Middle East, Rockit is driving its back-to-school campaign into thousands of stores and homes in its key global markets, speaking to the nutritional and health benefits of choosing Rockit as children head back to the classroom.
Julian Smith, general manager global marketing for Rockit Global said Rockit – which is sold in 30 countries worldwide – is currently in the midst of a very sharp growth curve across its international markets with volume up 43 per cent on 2020 figures.
He said the back-to-school campaign uses multiple platforms and touchpoints to establish the fully mature, miniature apple as the right healthy snack for kids to fuel their day.
"This is the first time we've launched a global marketing campaign of this size and calibre into some of our most exciting markets like the UAE, Hong Kong, Taiwan and Saudi Arabia," said Smith.
"We've worked hard with the talented team at New Zealand design agency Designworks to really pack a punch in 16 countries, developing a world-leading marketing campaign that supports our ambition to be the world's most loved apple brand.'
Consumers will be able to access a new interactive campaign microsite featuring downloadable activities, competitions and giveaways, as well as creative ideas to get everyone from kids to adults moving.
"We're also introducing cool new Rockit merchandise including backpacks, umbrellas, stickers and bag tags showcasing our new brand," commented Smith.
"Importantly, we're ramping up our social media and digital marketing in our key back-to-school markets with influencer content and collaborations, and delivering that content in traditional and simplified Chinese, and Arabic. We're also doing targeted activity – 180 days of sampling with single apple sample boxes in over 80 stores, under strict Covid-19 protocols of course.
"As millions of children head back to the classroom – whether it's in person or via Zoom – we're excited to see Rockit right by their side, helping them remain healthy, eat well and stay energised. It's just another step in Rockit's journey towards sharing 400m of our incredibly delicious and nutritious snack sized apples with the world by 2025," concluded Smith.