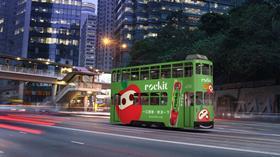 Miniature apple company Rockit Global has made an impact on the streets of Hong Kong in recent weeks, launching a marketing campaign to promote its new brand to the local market.
Kicking off with a branded tram that cruised Hong Kong Island during October (pictured), the omni-channel campaign also featured an interactive pop-up event, wide reaching influencer involvement and PR activity, capturing consumer attention.
Rockit general manager global marketing, Julian Smith, said the company's strong partnership with Freco International (Freco) has been instrumental in bringing Rockit's global brand to life in a way that connects with Hong Kong consumers.
"We've worked really closely with the team at Freco to build a campaign that captures the cheeky attitude of our new brand and are thrilled to see the impact that it's had in Hong Kong," said Smith.
"Locals there have been big fans of Rockit apples for several years now and this new activity has helped to spread the word wider, reaching thousands of new consumers in-store and online."
The three-day pop-up event at the popular shopping mall, Popcorn Plaza at Tseung Kwan O, was a campaign highlight featuring interactive games and giveaways, and drawing thousands of captivated consumers.
"It was awesome to engage over 80 influencers who drummed up high impact social media activity for #rockitapple," Smith continued. "The resulting posts showcased images taken at the pop-up event, boosting brand awareness among our target consumer audiences."
In-store point of sale material also featured prominently in over 130 supermarkets and wholesale markets to further drive awareness, resulting in a good lift in sales year on year.
Freco business development director, Sam Sin, said it was great to see a "new era" for fruit marketing with the emergence of stronger brand positioning in the industry.
"We have really enjoyed the opportunity to bring Rockit's global brand to life in Hong Kong," he began. "It is a pleasure to work with a company that has such a strong brand image and that empowers us to organise such an amazing marketing campaign.
"We are thrilled to encourage consumers to not only enjoy delicious Rockit apples, but to embrace the energetic lifestyle of the brand and Rockit every day," added Sin.
With the business set to pack and ship over 400m apples annually by 2025, Rockit said it will look to drive continued growth in the key market by building strong successful relationships with licensees and retailers. Staying across local consumer trends to create great brand experiences will be a key part of the company's journey to becoming the world's most loved apple brand.