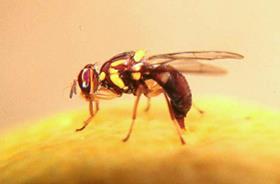 Biosecurity New Zealand has detected a single male fruit fly in a surveillance trap in the Auckland suburb of Devonport.
The fly was collected on 14 February, and confirmed as a Queensland fruit fly, however Biosecurity New Zealand spokesperson Catherine Duthie said the find does not mean the country is experiencing an outbreak.
Queensland fruit fly has been detected six times in New Zealand, with only one of these detections (in 2015) part of a wider spread of the pest, which was successfully eradicated.
Duthie said the Biosecurity New Zealand team will be working to set additional lure traps to determine whether there are other flies present in the area. As a precautionary measure, restrictions will be put in place on the movement of fruit and vegetables out of the area.
"If it established here, the Queensland fruit fly could have serious consequences for New Zealand's horticultural industry," noted Duthie. "It can damage a wide range of fruit and vegetables and could lead to restrictions on trade in some of our horticultural exports."