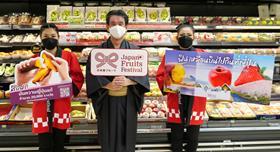 The Japan External Trade Organisation (JETRO) Bangkok office has launched a new festival to promote Japanese fresh produce in Thailand
According to a report from the Bangkok Post, the event called 'Japan Fruits Festival - Seasonal Gifts from Japan', is a collaboration with certified Japanese food supporter stores and fruit importers and exporters.
Running from the end of October 2021 to the end of January 2022, the campaign will promote apples, sweet potatoes, and strawberries to consumers in Thailand.
Atsushi Taketani, president of JETRO Bangkok, explained the idea behind the campaign and the expectations.
'First of all, I would like to thank all the involved parties from both Thailand and Japan for making this campaign happen. Thailand is the seventh largest market by country as an export destination for Japanese food," said Taketani.
"In 2020, the value of Japanese food exports to Thailand was at ¥40,100m (approximately 11,460m baht). Before the spread of Covid-19, Thai people could fly to Japan to experience first-hand the original taste of Japanese food, vegetables, and sweets – which has resulted in the ever-growing popularity of Japanese food among Thai consumers. Even today, during the spread of Covid-19, exports of Japanese food to Thailand still saw an increase from last year.
"This campaign focuses on communicating with the Thai consumers, aiming to encourage them to experience Japanese fruits of premium quality that offer their signature tastes and freshness, with hopes to turn them into real fans of Japanese fruits. We also do hope that this project will work to further strengthen the connection and friendship between Thailand and Japan.'
Japanese fruit will be promoted across a range of channels as part of the campaign. Leading media agencies and influencers on various platforms will be used to tell the story of Japanese fruit and how it is grown. The main page of the campaign website will feature content from Wongnai, a leading restaurant review website and application in Thailand.
Fruit will also be promoted in retail and online stores utilising staff and in-store advertising with participating stores listed on Wongnai's website.
Finally, consumers can receive promotional samples by completing the 'Forward the Japanese Fruits' survey. Consumers who complete the survey in-store or on their mobiles will receive 1kg of sweet potato from Japan.