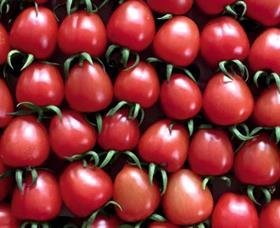 Turkish seed breeder Yüksel Tohum has developed a new strawberry-shaped cocktail tomato specially selected for hydroponic cultivation, the Eider F1, according to a report from Horti Daily.
The company's agricultural engineer, Ziya Yildiz, said that the new cocktail tomato has good potential for growers in North America due to its suitability for cultivation in cold and warm regions.
The company revealed that Eider F1 was a vigorous and fast-growing crop and yet suitable for year-round cultivation with hydroponics, with the fruit showing very uniform deep red colour.
Having been selected last summer, the variety is now grown on 10ha by Turkish growers. 'They are exporting the variety as a premium tomato for the Russian market,' said Yildiz. 'Eider was very well received by growers and retailers due to its good growing habits and very sweet taste.'
Yüksel is now running trials with growers in Ontario, Canada, and in the US.
'We think that the crop has a lot of potential for this market, retailers favour the extreme consistency of the fruit, the high quality and good taste (Brix of 8°),' said Yildiz. 'As well as this the shelf life is also good, the variety is not sensitive to cracking and has a good presentation in the supermarket shelves, the fruits are firm, uniform and deep red.'
In addition, Eider F1 has reportedly got built-in high resistance for tomato mosaic virus, wilting disease (verticillium dahliae) and intermediate resistance to tomato yellow leaf curl virus.